EARLY ACCESS KICKSTARTER CAMPAIGN
On November 5th, 2019, we launched our early access Kickstarter campaign! This successful campaign was for a small-quantity run of early access units. These units were hand-assembled, resin-cast units, which have been shipped to our early access customers. To learn more, and to see the early access units in action, you can see our Kickstarter video, here:
Or you can find the Kickstarter campaign at
https://www.kickstarter.com/projects/sublightdynamics/sublight-dynamics-6dof-joystick-early-access
See below for more about the early access units:
How It Works:
The joystick works by measuring forces applied to the handle. Controlling an application means simply moving the handle in the desired direction. Using force sensors also means that there's no hard physical center to the motion, making small adjustments easier, and allowing for fast, smooth input changes, with no bearings to wear out over time.
Because of the vertical axis, the joystick should be used while fixed to the surface it's on. This can be the top of a desk, using a common C clamp, or in front of a desk, using the included desk mounting clamp.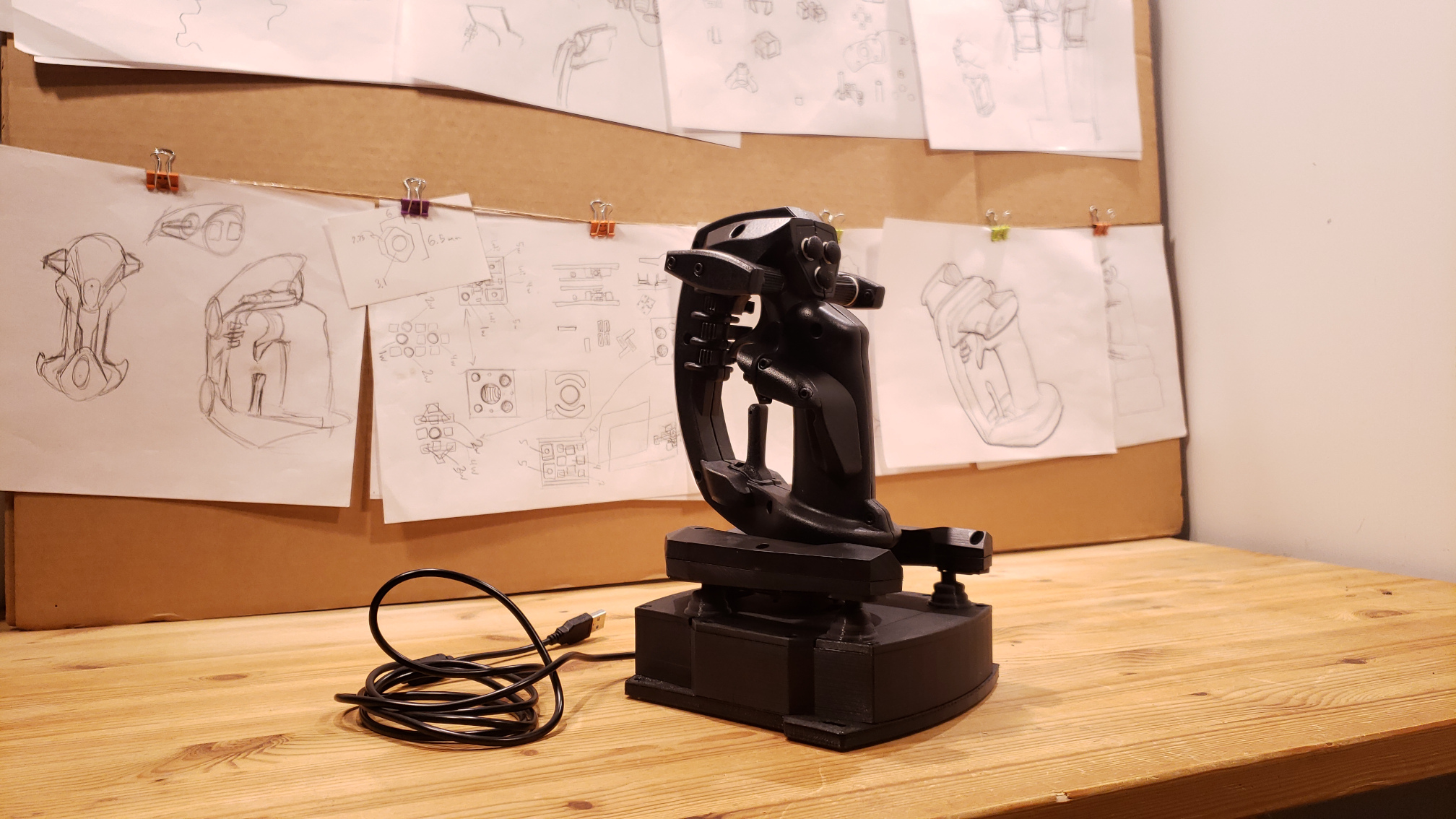 Features:
The joystick is fully ambidextrous, requiring only the swapping of a palm rest to switch from right to left handed.
The precise force sensors act through a multi-part spring suspension system balanced around the center of the handle, so that force can be applied at the handle's center without causing rotation. This provides a blend of kinesthetic feedback, like a traditional motion-based stick, with the reaction speed, and sensitivity customization associated with force controllers.
Most components on the joystick will be made of cast resin. The base plate, clamp, and armrest will be made from laser-cut steel.
Because the Sublight joystick is primarily designed as a simulation gaming device, it includes a number of inputs on the handle.
Finger controls (32 digital inputs):
Dual-stage main trigger, with additional reverse action
Forward bump trigger
Thumb button
Two-way pinky trigger
Three two-way index levers
One eight-way hat with center push
Two four-way hats with center push
Two analog rotary knobs
A vibrating motor in the handle can also be optionally enabled to indicate when the joystick is a past its axis limits, either with a continuous vibration or with a single tap. We've found this to be helpful for quickly learning to feel the force required for a given sensitivity value.
The joysticks will be highly configurable using a settings program that we've developed. The core settings have already been implemented, but we'll continue to improve the UI and settings options during and after production of the early access units.
Settings are stored locally on the joystick, so you can use your custom settings without having to continuously run the settings program in the background.
Some examples of included settings are sensitivity, output curve shape, deadzones, axis inversion, and axis output order.
Multiple sets of settings can be uploaded at once as modes, and joystick buttons can be programmed to select different settings modes on the fly. This can be used, for instance, to temporarily reduce sensitivity or increase deadzones when very slow, precise movements are desired.
The current mode is displayed using one of three mode LEDs at the top of the handle.
What's Included:
One Sublight Dynamics 6DOF early access joystick
An arm rest, which can help prevent fatigue during extended use
A desk mounting clamp, to secure the joystick in front of a desk
A mirrored palm rest to swap for left-handed usage
Specs:
Base Dimensions: 135 mm wide x 160 mm deep (5.3 inches wide x 6.3 inches deep)
Total Height: 255 mm (10 inches)
The joystick's base plate includes common screw hole patterns:
60.1mm x 60.1mm with M4, compatible with Foxxmount and Monstertech mounts
100mm x 100mm with M4, VESA mount pattern
Compatibility:
The 6DOF stick uses standard USB HID reports. This means that should it plug and play with any PC program that can work with six or more axes of analog input from conventional joysticks or other game controllers.
We don't have custom drivers available for Mac OS or Linux, so the early access units are only intended to be used with Windows.
Maintenance:
Contact email for Sublight joystick users: